Porphyry Paver Samples » | Porphyry Pavers Colors » | Request Estimate »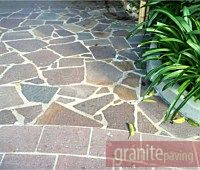 There is something very distinctive and lasting about Porphyry pavers. In ancient times, walkways and highways as well as town squares were paved with these beautiful stones and they still stand in all their eternal glory to this date. It is these qualities that make architects, builders, landscape designers and contractors use these hardy stones that have been able to withstand all the use and abuse that has been meted out to them over the centuries.
What is it?
Granite Paving provides landscape and building professionals with the highest-quality porphyry pavers and they have been creating very impactful spaces with these unique-looking stones. So, what exactly is it that makes this the material of choice for so many people across the U.S and the Caribbean?
Porphyry is essentially and an igneous rock that gets formed under very intense heat & pressure. The stone's surface is very characteristically covered with larger grains that float around the groundmass of much finer grains and its composition is immensely dense and it repels absorption of water.
Its Features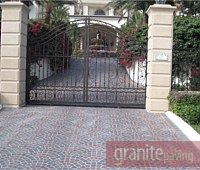 Since it is non-absorbent, this amazing stone becomes all the more durable and strong as it does not get affected by the weather and freeze-thaw cycles. Most other porous stones are prone to cracking as they get affected by the weather. This is why porphyry pavers are the preferred choice of architects and landscape designers across the U.S and the Caribbean. They are the perfect material for any space where aesthetics and durability has to be prioritized.
The Benefits
Let's take a look why this stone is the preferred choice in landscape designing.
Colors - The word porphyry has been derived from the Greek word that means "purple". Though a number of varieties of this stone are purple in color, it is easy to find these stones in hues of pinkish-brown, pinkish-green, violet-grey, and greenish brown. What this means is that there is no limit to how creative you can get with designing a landscape. You can choose to use stones of a single type or a mix-and match of colors for a stunning effect


Non-slip surface - These porphyry pavers have a very evenly textured surface that provides a sufficient amount of traction. This anti-slip surface makes then perfect for pavements, walkways, driveways and boardwalks.


Strong & Durable - The high-quality porphyry pavers that we provide are very low-maintenance and they look good for years. They are able to resist a lot of wear and tear as well a chemical abrasions and do not get affected by changes in temperature


Variety - As mentioned earlier, these stones are available in all shapes and sizes and in different cuts and edge finishes. You can also get stones with different textures. This gives you the scope to create the kind of designs you want and like.


We at Granite Paving are focused on providing you porphyry pavers that look good, last long and ones that will add beauty to the spaces you use them in. We acquire all our stones from the front-running manufacturers across the world. Contact us today for a quote.