Granite Paver Samples » | Colors & Finishes » | Request Estimate »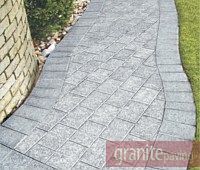 At Granite Paving, one of the high-demand products is granite paving stones. These are high-quality stones that are available in a range of colors, shapes, sizes and designs. Some of the top most landscape designers, architects and builders source these granite pavers from us. Apart from this, we also have a steady flow of individual customers who come to us for granite stones that can be used to adorn different outdoor spaces.
A Massive Variety
The stones that we supply can make the simplest of places look grand and they also up the value of the property. There are granite colors such as light gray, red, green, dark grey and black as well as a number of other colors to choose from.You can choose from edges like natural, saw-edged, natural split face,beveled and top finishes such as flamed/thermal, bush hammer, natural and tumbled.
Since these stones are all available in different thicknesses, they can be used either for flooring installation of as cladding on retaining walls, entranceways and porches as well walls that face any outdoor features like decks, outdoor kitchens and patios.
Different Applications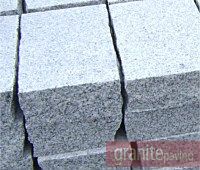 Since there are designs and shapes a-plenty, it is possible to create very distinctive landscapes areas.
Granite paving stones are widely used for:
Steps
Fountains
Driveways
Pool Decks
Fireplaces
Kitchens
Roads
Walkways
Polished/Unpolished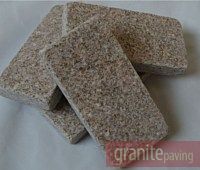 Based on where they are being used, we generally suggest that unpolished granite be used. This is slip-resistant, heat-absorbing and non-combustible. All these qualities make it perfect for areas such as these. On the other hand, in spaces where elegance and finesse is all important, we can provide granite paving stones that have been polished to sheen. This provides a very elegant and classy look to the areas.
We source all our stones from the topmost manufacturers and have very high quality control standards in place. All the stones and granite paving stones are of the highest grade and can be used for landscaping and architectural elements in and around your home or commercial area. Not only are they elegant to look at, but also very sturdy and durable and low-maintenance too.
Customization Too
If there are any specific shapes and sizes of granite paving stones that you require, we will happily customize them for you. Any granite paving stones that you acquire from us will add a special touch to the space you use them in. We have been supplying these products for a number of years to customers across Deerfield Beach, Pompano Beach Highlands and Lighthouse Point as well as all the surrounding areas.
As a matter of fact, we can ship products to any location across the U.S and the Caribbean, Simply call us today and speak with our knowledgeable staff about your requirements and we will provide you with the granite paving you need. If you have a paver need, Granite Paving is the company to contact. The best granite paving stones at the best prices are what you will get every single time.