Mesh Granite Paver Samples » | Colors & Finishes » | Request Estimate »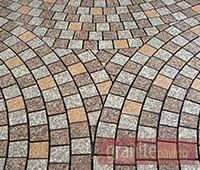 Mesh Cobblestones never seem to go out of style and they always look unique and artistic. A driveway that has been decorated with round and smooth-textured cobblestones adds to the allure of the landscape around your home and most high-end homes in affluent localities have cobblestoned driveways and pathways. Most landscape designers and architects in the U.S and the Caribbean are now opting for these fantastic stones to add the attraction quotient to different spaces. But if you think of opting for these, choose mesh cobblestones.
What are Cobblestones?
Cobblestones are stones that have rounded edges but you will also find them in a number of different shapes and sizes. Today, advanced cutting and finishing technology has made it possible to have different shapes of cobblestones. These are made of porphyry, basalt and granite, or any other kinds of natural stones and are available in a range of colors, like green, red, white, yellow, black and grey. You can also find finishes of different kinds such as saw edges, flamed/thermal, bush hammered, back mesh and natural.
Impressive Varieties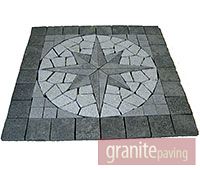 The fact that Granite Paving can offer you a mix-and-match of different colors with different shapes and textures, gives you a range that is truly expansive and impressive. In their own right, cobblestones are very impacting on any paved surface, are strong and long lasting too. Today, with new paving technology available, the installation itself is also very fast & easy. Mesh cobblestones may also be called granite paver mats or granite paver mesh, and these are actually individual units that are attached to a mesh.
Cobblestones that do not have a mesh have to be installed individually on sandy surface; this is a very time-consuming and troublesome process. Apart from this, chances are that the installation will shift and some of the cobblestones might come loose and impact the integrity of the entire structure.
But mesh cobblestones have solved all these problems and just laying the mats down on the surface you need to cover ensures you have a perfectly-paved area with all the stones positioned at just the right intervals and in the right design. We ensure that only the highest-quality materials and used and that all the cobblestones are smooth without any ungainly bumps.
Versatility of Application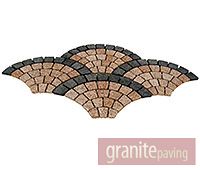 The mesh cobblestones that you acquire from us can be used for installation of entranceways, courtyards, driveways and pathways. If you as a landscape designer or a contractor handle large landscaping projects and are looking for mesh cobblestone or even tradition cobblestone, contact Granite Paving.
We can provide you with the quantity of paving material you need and will also ensure that the complete lots of cobblestones that you get are graded right and are of the best quality. This kind of excellence is very hard to come by and we are the preferred suppliers of mesh cobblestones for many professionals in the field. If you are an individual homeowner, architect, landscape design or a paver contractor and is looking for the best mesh cobblestone- contact us today.