Basalt Paver Samples » | Colors & Finishes » | Request Estimate »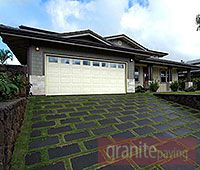 Basalt pavers or Black Granite as they are called are truly amazing, it is extracted from extrusive volcanic rock. This stone looks stunning and can be used in a range of applications. Apart from landscaping and other hardscaping application basalt can be turned into a very durable heat-resistant fiber. When this material is used in any kind of construction, it makes for very sturdy foundation, is used in making highways and in railroad ballast, to name a few. It looks amazing when used in conjunction with water features in any landscape.
Understanding What Basalt is
Although basalt is a very common natural stone, most architects & landscape installers prefer using it in their projects. This rock is available in a number of shades from grey to black and they have very noticeable embedded shiny crystals in them. But paving experts like Granite Paving are using only the highest quality Basalt Pavers.
The Qualities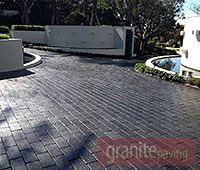 This material also has some distinctive qualities such as:
Beauty - Basalt Pavers are naturally appealing and it can make any landscape look unique and attractive. It can be used on Driveways, Pool Decks, Patios, Walkways, Roads, Wall Cladding, Retaining Walls, rock foundations for waterfalls and can also be used for interior flooring.


Resilience - This is an extremely hard stone and is also very commonly used to add strength to cement and asphalt. It is ideal for use as Cobblestones


Design Flexibility - This stone is extremely durable and beautiful, but it has to be cut into smaller pieces to be used as Granite Pavers. It can be cut into various shapes and sizes and it is also available in a range of textures


It's all these qualities and more that make basalt an excellent stone for pavers; we supply them to Landscape Architects across the U.S and the Caribbean. Apart from landscaping, it is used as wall covering flooring and windowsill coverings or any other space that requires an exceptional architectural impact.
Beauty in Variety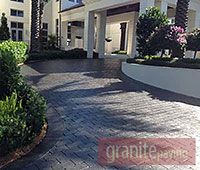 We are able to provide you with Quality Basalt Pavers or Black Granite in a range of sizes and finishes. In addition to this, you can add uniqueness to your landscapes and homes with basalt stones finishes such as; natural split face, tumbled and flamed, beveled edges, natural top with sides cut and any other custom finish required.
The thicker Basalt Granite Paver is ideally used in flooring applications while the thinner ones are used in wall claddings. If you have a Basalt Paver requirement, Granite Paving is the company to contact in the U.S and the Caribbean. We are able to provide Basalt Granite Pavers for large and small projects and can provide you with the best Prices in the country.